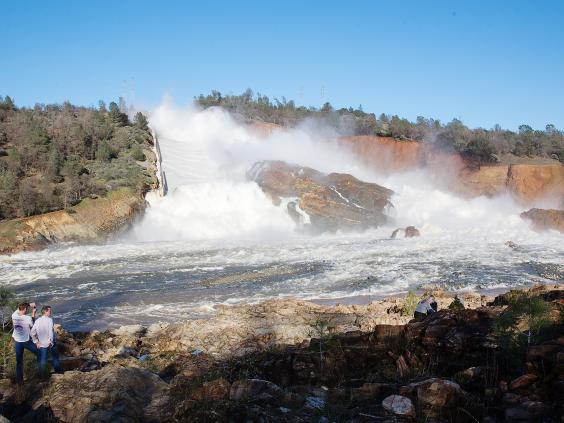 When asked if the spillway was supposed to handle far more water, Bill Croyle, the acting head of the California Department of Water Resources, said he was "not sure anything went wrong" on the damaged spillway.
A day after 188,000 people were evacuated from the towns surrounding Northern California's Oroville Dam, officials sounded a note of cautious optimism about containing the threat of flooding.
Water flows down Oroville Dam's main spillway on Saturday.
Sheets of water began spilling over the dam's emergency spillway for the first time in its 50-year history after unexpected erosion crumbled through the main spillway earlier this week, sending chunks of concrete flying.
Dam engineers are trying to fix the hole in the emergency spillway before more storms arrive in Northern California later this week. While failure of the actual dam would be more catastrophic, a failure of the emergency spillway would also release a tremendous amount of water - a "30-foot-high wall", according to officials, that would flow downstream into Feather River communities.
Built between 1962 and 1968, the Oroville Dam lies about 150 miles (241 km) northeast of San Francisco.
Those potential flows could exceed the capacity of downstream channels. However, that also meant that the water would erode the hillside and flood nearby areas.
Almost 200,000 people living below America's tallest dam remain under evacuation orders as the flood risk continues today. As a result, the dam's primary spillway has been used heavily to accommodate the excess volume. Rather than risk thousands of lives, the decision was made to order evacuations.
The Lake Oroville Dam is about 75 miles north of Sacramento and about 25 miles southeast of Chico, a city where evacuation shelters were opened.
Butte County Sheriff Koney Honea said engineers with the Department of Water Resources informed him shortly after 6 p.m. that the erosion on the emergency spillway at the Oroville Dam was not advancing as fast as they thought.
Oroville Mayor Linda Dahlmeier said on Monday that the lake's elevation had dropped 5.5 feet below the top of the emergency spillway.
"The state is directing all necessary personnel and resources to deal with this very serious situation", Brown said in a statement Sunday.
The combination of relatively low inflows, no major anticipated storms and snow levels dropping from 6,000 feet to 4,000 feet over the next couple of days, that will allow water managers to retain the water storage area at the reservoir. The structure was expected to give way Sunday evening.