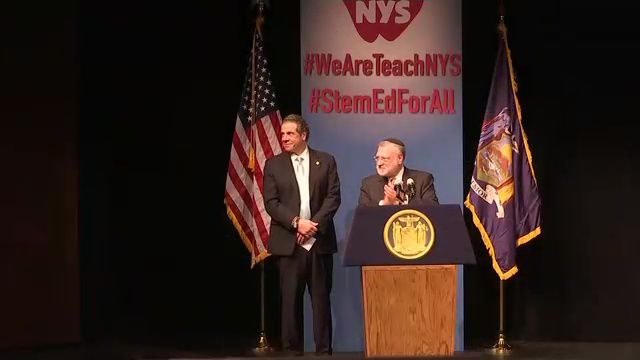 Cuomo left Saturday and will return from Israel Monday.
Cuomo, seen as a possible Democratic presidential candidate in 2020, is governor of a state with a large Jewish population.
Gov. Andrew Cuomo is back in NY today after paying tribute to victims of the holocaust in Israel.
"This is another step to show how seriously we take this problem of anti-Semitism", Cuomo said. "New York's principles are built on a rock, they will not change, and the political wind will not change them." he said.
Jewish Community Centers in Westchester County, Buffalo, Syracuse and Albany were among those that were hit with bomb threats.
"The relationship between the Jewish community and the state of NY is built on mutual support and respect", Mr. Cuomo, a Democrat, said in remarks before a tour of Israel's Holocaust memorial.
" The second objective of this trip is 'Hineini, ' I am here, I have been here before, and I will be here again", he added.
The Israeli president, whose role is mostly ceremonial, also said "the same appreciation goes to President Trump, who condemned the recent attacks". He will meet with Prime Minister Benjamin Netanyahu, tour Yad Vashem and the Western Wall and attend a security briefing at Jerusalem's Old City Police Headquarters.
Following a meeting with Jerusalem Mayor Nir Barkat, the Governor announced the creation of a New York-Israel Commission, charged with assisting in the creation and promotion of opportunities for thedevelopment of new programs and economic partnerships celebrating the relationship between New York State and the State of Israel.
"New York and Israel have always shared a deep cultural, social and economic bond and I am proud that we are working to make our partnership stronger than ever before", he said, in announcing the launch of the new forum.
In his second trip to Israel, Gov. Cuomo said he aims to learn from the countries advanced security provisions.
.