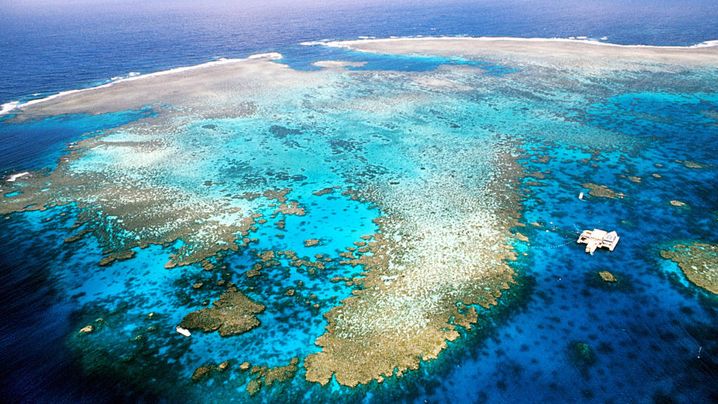 The ARC Center of Excellence for Coral Reef Studies released results of an expansive aerial survey of the Great Barrier Reef this Sunday.
Severe mass bleaching events have now been recorded for the Great Barrier Reef four times: 1998, 2002, 2016, and now in 2017.
Its 2016 survey found the top third of the reef had experienced the most intense bleaching.
A total of 1,500 km of corals in both the northern and middle sections of the reef have been badly impacted in back-to-back events, said ARC Centre of Excellence for Coral Reef Studies.
Aerial surveys show a 900-mile stretch of the Australian reef is badly bleached - which occurs when stressed corals lose algae and turn white.
Only the lower third of the 2,300-kilometer-long reef remains unscathed, say scientists, who point to record-breaking seawater temperatures as the cause.
The Great Barrier Reef has been at risk for a year now following a 2016 coral bleaching event, but new findings show that after yet another bleaching event, two thirds of the reef have been severely damaged.
Last year's mass bleaching was fueled in part by a powerful El Niño, but would have been almost impossible without climate change bumping up background temperatures. Coral bleaching, usually, is no cause for worry since mildly bleached coral can recover itself once temperature drops.
"Ultimately, we need to cut carbon emissions, and the window to do so is rapidly closing", warned Professor Terry Hughes.
The World Heritage site has suffered a second bleaching event in 12 months, triggered by unseasonably warm waters, ARC added.
AN AREA the size of India could be lost to global warming with each additional degree the earth heats, Yorkshire scientists said last night.
Jon Brodie, a water quality expert who has devoted much of his life to improving water quality on the reef, said the reef was now in a "terminal stage".
"It's too early yet to tell what the full death toll will be from this year's bleaching, but clearly it will extend 500km (310 miles) south of last year's bleaching", he said.
Bleaching takes place when "abnormal" conditions - such as increased sea temperatures - result in coral getting rid of very small photosynthetic algae, according to the ARC and JCU.
"The most common cause of coral bleaching is when water temperatures rise causing coral to expel symbiotic micro algae called zooxanthellae", Director of the Sydney Institute of Marine Science Peter Steinberg told Xinhua. Hughes was part of the survey team in the last two years. The reason this is so concerning to Hughes and other scientists is that it's happening more frequently, and the reef needs time to recover or else it will die.
The Coral Reef Watch forecast is for elevated risk of coral bleaching to continue until at least July around the world, adding further stress to coral.