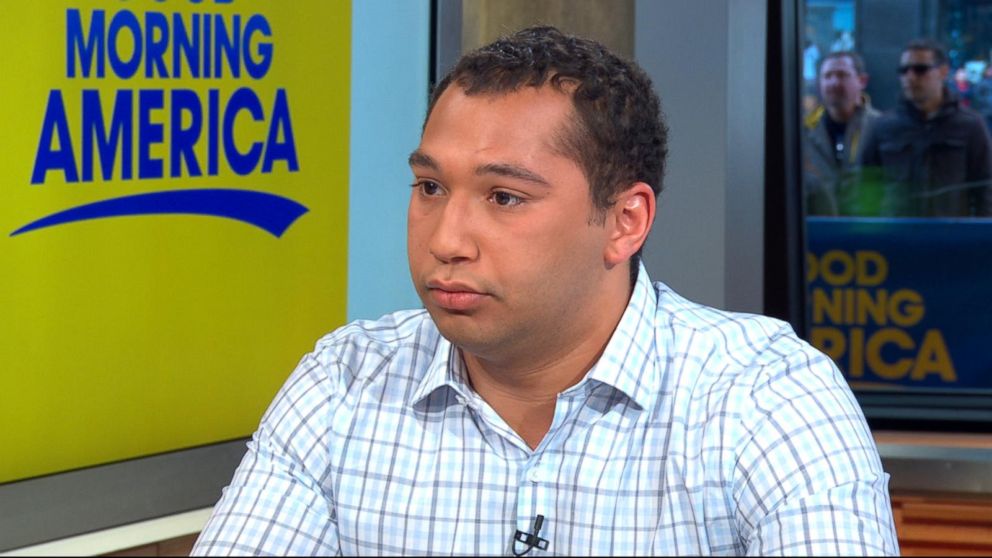 Jim and Evelyn Piazza stand by as Centre County District Attorney Stacy Parks Miller, left, announces the results of an investigation into the death of their son Timothy Piazza, seen in photo at right, a Penn State University fraternity pledge, during a press conference Friday, May 5, 2017, in Bellefonte, Pa. Timothy Piazza had toxic levels of alcohol in his body and was badly injured in a series of falls, authorities said Friday in announcing criminal charges against members of the organization and the frat itself.
On Sunday, a Penn State fraternity member said he begged his brothers to call for help for Timothy Piazza, but was ignored and shoved into a wall.
But no one listened.
Help for Piazza apparently wasn't summoned until about 12 hours after he was injured during events surrounding a pledge acceptance ceremony.
The grand jury, aided by security camera footage, said the fraternity was heavily stocked with booze for the February 2 ceremony at which Piazza, a sophomore engineering student from Lebanon, N.J., and 13 others accepted pledge bids.
"All indicators suggested Beta Theta Phi was a model fraternity - the house, privately-owned and situated like all other fraternity houses on private property, was handsome, the subject of a multi-million dollar renovation; both the Beta alumni and the national organization provided strict rules of behavior; and, the brothers had a no alcohol policy which stated that anyone caught drinking would be expelled", Barron said.
Kordel Davis spoke to "Good Morning America" about the tragedy. Tim fell and he's just lying on the couch.
Because the fraternity house had a surveillance system, much of what happened that night was recorded. He acknowledges alcohol was involved.
Tom Kline, Attorney for Piazza family, said "It was an open and notorious secret that hazing and out-of-control drinking were rampant at penn state". The young man was suffering from serious head wounds, had trouble standing, and fell down the stairs again.
The contents of the disturbing video are detailed in a grand jury presentment filed in court in Centre County, the Philadelphia Inquirer reported Monday.
Davis wasn't charged. He says he wanted to call for help.
Over the past few years American universities, and especially their fraternity houses, have been put under the spotlight for their tradition of hazing new recruits.
Davis would also tell ABC News that he was "manipulated" into believing everything was going to be fine.
As for lessons learned, he said, "When you think something is wrong, you shouldn't be afraid to speak your mind. Don't let people change your thoughts". They then ran to and from drinking stations where they drank wine from a bag or shotgunned beer.
Piazza was found unconscious on a couch on the main floor when paramedics arrived after a call for help. It wasn't until 10:48 a.m. the morning after a February 2 party that an ambulance was called.
The investigation found some frat members tried to hide what happened. "This is the result of a feeling of entitlement, flagrant disobedience of the law and disregard for moral values that was then exacerbated by egregious acts of self-preservation".
Kline also referred to Jerry Sandusky, a former Penn State assistant football coach convicted of sexually abusing young boys over a period of at least 15 years.