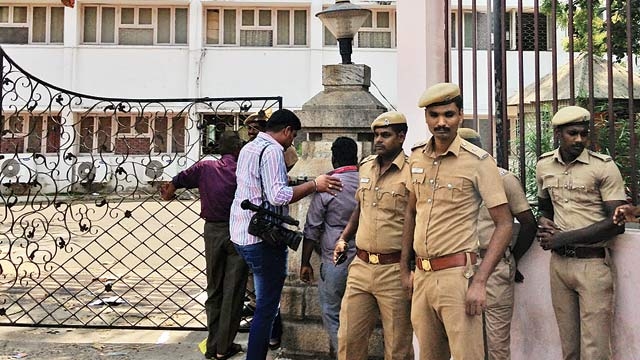 Nedumpara told the CJI that the judge is in Chennai. The bench agreed to look into the petition. "In the meantime, this court directs the Air Control Authority [referring to the Airports Authority of India] New Delhi, not to permit the said accused 1 to 8 from going overseas until the disposal of this crucial issue, since the nature of the offense, that is caste discrimination, is not only a heinous crime but also a very cruel act, and is punishable as per the Constitution", Justice Karnan stated in the order. Nedumpara also furnished a signed document authorising him to appear on behalf of the controversial judge.
"We are of the unanimous view that Justice C S Karnan committed contempt of court, contempt of judiciary and the judicial process", a seven-judge constitution bench headed by Chief Justice J S Khehar said.
Justice Karnan flew to Chennai on Tuesday morning, hours before the Supreme Court punished him for contempt.
Taking into account the importance of the fugitive, the West Bengal Police team is led by Director General of Police Surajit Kar Purkayastha.
Justice Karnan has sought relief from the Supreme Court in the contempt of court matter. The Bengal police team has been coordinating with their Tamil Nadu and Andhra Pradesh counterparts and is on a lookout for the judge.
Listing out Justice Karnan's demands, Peter notes, "He wants interim bail until final orders are passed". Some reports also said he planned to challenge his sentence in the Supreme Court.
Justice Karnan had written letters to the Prime Minister in which he alleged some sitting Judges of corruption and said no inquiries were made into those and instead he was targeted by his colleagues due to his caste.
The bench, comprising of judges Justices Dipak Misra, J Chelameswar, Ranjan Gogoi, M B Lokur, P C Ghose and Kurian Joseph, had observed it was satisfied that Justice Karnan be sentenced for six months in jail adding that the contempt power does not recognise who is what, whether he is a judge an individual or a private person.
Tension prevailed for a while when a group of lawyers protested outside the guest house, alleging that Justice Karnan was being victimised.
"The seven judges looking at my case are corrupt". He stated that the Supreme Court's latest order was an "insult" to a Dalit judge. After a closed-door meeting with the then Chief Justice, T S Thakur, Karnan accepted the transfer and apologised for his actions saying that he had lost his "mental balance".