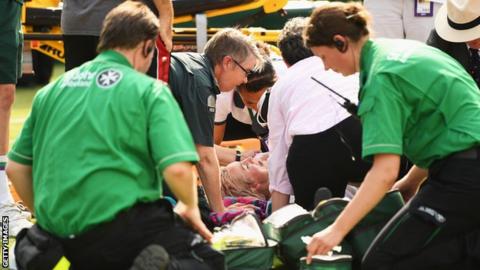 Cirstea was visibly upset and said her friend's knee was "out. and in a very weird position".
The US's Bethanie Mattek-Sands suffered a horror knee injury at Wimbledon yesterday that left her crying in pain on the court.
"Of course you wonder what happen if it was a heart issue or something like this", Cirstea said. Finally, while being stretchered out she said, "It hurts, it hurts so much".
As medical personnel and Mattek-Sand's husband rushed to the field, Cirstea turned away aghast at the seeming extent of her opponent's injury, tennis match completely forgotten. But they insisted the stretcher was on court well before it was needed, stressing the correct medical procedures are to provide painkillers and keep the player motionless while they are being assessed.
"I saw she was on the floor, then she started screaming".
The third seed looked to be cruising at a set and a break up but switched off and was unable to turn things back in her favour and went down 3-6, 7-5, 6-2.
"Everyone froze and I screamed something to the chair umpire".
The Sun reported Mattek-Sands' comments as she was taken off the field. She won a gold medal in mixed doubles at the Rio Olympics with Jack Sock, and has won the last three Grand Slam events with Safarova. As she did so, however, her knee buckled beneath her and she fell to the grass turf, screaming in pain.
She is now the No. 1 women's doubles tennis player in the world, which further adds to the cruelty of this injury. I called for help, but no one was coming. She was later seen in tears courtside.
She was attended to by paramedics on court, with an ambulance ready to take her away.
Mattek-Sands went down immediately. "I wish I could have done more".